DANCING ON THE VOLCANO
Text: Marta Kropidłowska
foto: Pinterest, atelier 1925
The defying glance from under long lashes, lips covered with strong red lipstick – this is what draws attention first when one looks at one of the most recognizable covers in the world.
Self-portrait in a green Bugatti commissioned to Tamara Lempicka in 1929 by the publisher of the German magazine Die Dame is today one of the most frequently reproduced paintings. Lempicki portrayed herself as a driver of sport Bugatti. The luxury car glows with its metallic green colour, presenting a contemporary Amazon in fashionable motorbike outfit, a protective helmet on the head and a sophisticatedly draped scarf. A hand dressed up in a long yellow glove holds the steering wheel firmly and decisively. Here is a portrait of a modern, self-confident, liberated and unconcerned woman. When one looks at the magazines of those years, one can come across many pictures of young, athletic, fashionably dressed women with their luxury cars in the background. The colour of the dress was often selected to suit the shade of the car body or vice versa – the body was painted in fashionable Art Deco patterns.
Lempicka herself was an undisputed icon of style, often referred to as "queen of modernism". She was famous for her classic beauty, fashionable dresses as was the client of the best dressmakers in Paris, but she is perhaps best known for her lush, decadent social life. She was the legend of those years, and, by and large, she created this legend herself, enriching her biography with a huge amount of real and imaginary stories. To this day, biographers argue whether Lempicka was born in 1896 or 1898, in Moscow or maybe in Warsaw. We only know that she had falsified the metric. However, it is certain that she had a good life. When her husband, a lawyer from St. Petersburg, lost his job and was arrested during the October Revolution, she realized she had to start earning money.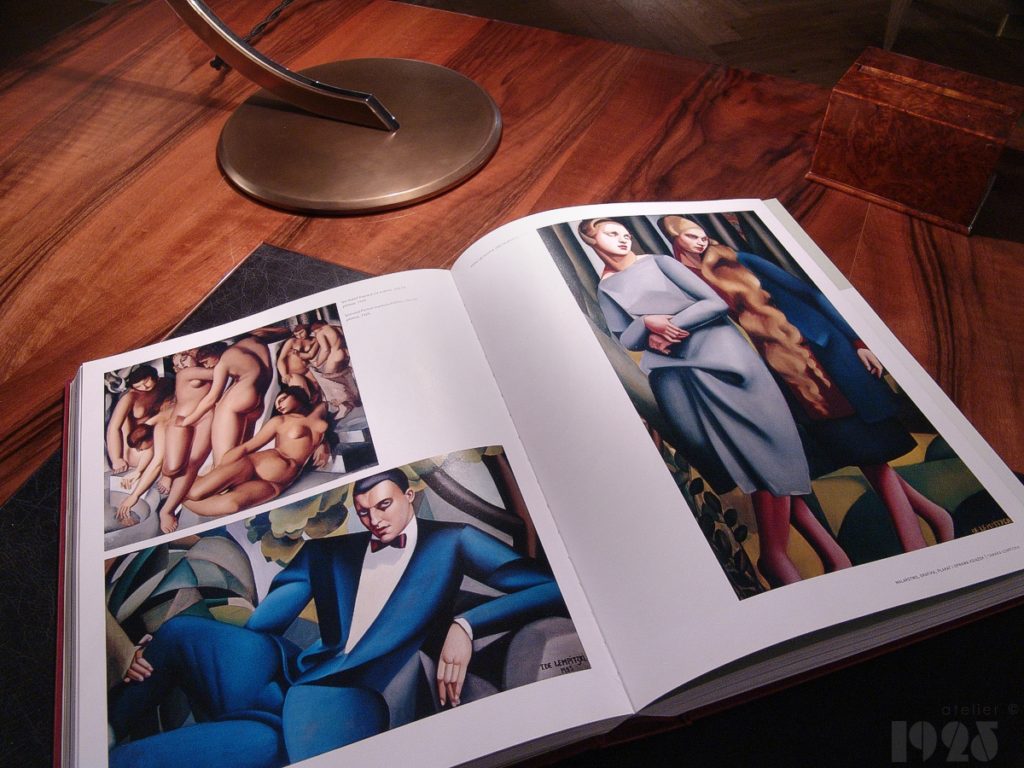 She was studying the works of Italian Renaissance masters during her early childhood holiday trip to Italy with her grandmother Deklerowa. Later, as an adult, she visited Italy often as well. It is known that after moving to Paris she studied, among others, at Maurice Denis' and Andre Lhote's. In order to afford a good living, she quickly mastered the secrets of a new, fashionable style which involved a combination of post-Cubic influence with neoclassicism. After the first exhibition in Milan in 1925 which was organized for her by Prince Emmanuelle Castelbarco, she became famous and soon was the most fashionable portraitist of her time. Suddenly, all the wealthy ladies, starting from the cmembers of royal families, through the aristocrats to the wives of the industrialists, wanted to order a portrait painted by Lempicka – in natural size if possible. Her courageous, sometimes licentious acts made the critics suffer from headaches.
However, wild Parisian life ended with the rise of fascism in Europe and Lempicka, already with her second husband, Baron Raoul Kuffner, left for the United States on the eve of the war. On the new continent she did not give up hitherto lifestyle and was associated with the environment of Hollywood stars. "Baroness with a brush" triumphed again as a favourite portraits of celebrities, social and financial elite on the other side of the ocean. The popularity of the Lempicka finished in the fifties with the post-war changes concerning art. She moved to Mexico when she was in her old years. She died in Mexico in 1980. She had her ashes scattered at the foot of the Popocatepetl volcano.
Self-portrait in a green Bugatti, belongs to a private collection and will forever remain the symbol of a modern woman of that time.