BLACK PANTHER
photos: CARTIER ARCHIVES, WWW.INVALUABLE.COM  &  Text: Kamila Utrata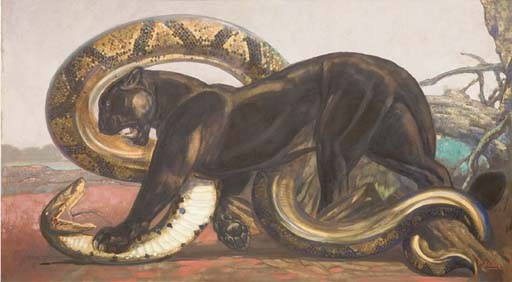 The fascination concerning wild cats at the beginning of the 20th century was expressed in different manners. As regards painting and graphics this trend often took the form of a black panther. In case of sculpture and architecture the image of a lion was used. When it came to everyday objects they were decorated with jaguars.
It is said that Louis Cartier began the hype for "panther print" when in 1914 he asked George Barbier to design invitations for jewellery exhibition in Paris. The famous jeweller indeed appreciated the work of Barbier who operated in the world of fashion and jewellery showing a great sense of style and lightness. Watercolour titled Dame a la Panthére evoke the admiration of Cartier. This balanced, symmetrical composition depicts a lady in a statue pose wearing a fashionable Delphi style dress. There is a black panther at her feet. The animal seems calm, quite gentle. Only a scratched, watchful eye reveals its predatory nature.
Cartier enjoyed the watercolour so much that he actually used it to advertise his company and the panther itself served as an inspiration for many designs of this jeweller for many years: from flecky watches to boxes with images of wild cats on them. The panoply of camouflage print in Cartier's company was associated with Jeanne Toussaint who often made use of full-figured wild cats in her work.
Soon the panther theme took over the whole artistic world. Its popularity was certainly increased by the orientalist trend, including extreme interest in exotic fauna and flora. Moreover, the panther became a symbol of liberated femininity – elegant, graceful, to some extent mysterious and somewhat of predatory character.
Consequently, the panther was often presented in the company of women, as in the case of a small sculpture made by Marcel Bouraine, Archpriest. It is a true apotheosis of femininity at the verge of mythology and exotics. The sculpture presents a priestess who with a gentle hand gesture casually calms two mighty predators down.
Pieces of art from the 1930s expressed a slightly different character: due to the geometric trend the musculature of the animal was emphasized leading to redoing the posture. The most common solution of this type was presenting a scene with fighting animals. This theme provided the opportunity to present the predator as a powerful, solid body. Paul Jouve's painting titled Panther Fighting Python is a good example.
Certainly – no matter if muscular or full of grace, threatening or tamed – panther indeed was a favourite animal of Art Déco.