BOMB
UP!
The Horse Racecourse at Służewiec was opened on the 3rd of June 1939. At that time it was both the greatest and most modern racecourse in Europe. It was designed by a Warsaw architect Zygmunt Plater-Zyberek and belongs to the group of best examples of streamline moderne in Poland.
Styling of streamline modern type evolved in architecture and involved highlighting its streamlined, aerodynamic form characteristic for transatlantic liners.
The Horse Racecourse in Służewiec is a unique architectural and urban design in the world's scale. The naval style of the building with the three-storey glazed Honorary Tribune as well as the ramp substituting the stairs capture the attention.
The racecourse plan from the 1930s included a whole equestrian town where, among other things, training track, a race track, a paddock, three stands, a recreation area with a fountain, a huge car park and underground tunnels were to be located as well as stable-residential complex with shops, kindergarten and reading room situated on a horseshoe-shaped plane. Not all of these elements were completed before the outbreak of war. Fortunately, the racecourse was not devastated and nowadays the visitors can admire this breath-taking place in its original version.
For several years revitalization works concerning Służewiec racecourse have been realized. The main tribune was restored to house many attractions, among other things, underground dance hall together with a rotating stage. The works on the Honorary Tribune are to be completed at the end of June.
Those would like to look at this architectural gem more closely and feel the unusual atmosphere of this place should check out Derby. It is one of the most important (apart from Great Warsaw – Wielka Warszawska) events taking place at Służewiec racecourse. It is traditionally held on the first Sunday of July. On this day you can admire not only splendid horses and exciting races, but also – just like in Ascot – beautiful hats of the ladies.
P.S. During the interwar period races were extremely popular. The entire upper crust of the capital city attended the races and President Moscicki used to travel in a carriage led by two gray "Arabians". One could lost his heart here and – in many cases – the property. Moreover, there was much gossiping, however, in reference to the spectacular wins. It was said that if one wants to feel the spirit of old Warsaw today, racecourse at Służewiec is the best place to achieve that. At this area the dress code is a must and the time seems to have stopped.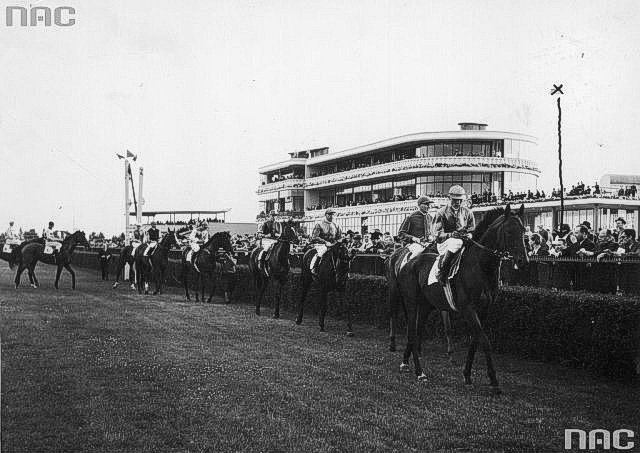 Photo: NARODOWE ARCHIWUM CYFROWE
Text: Marta Kropidłowska