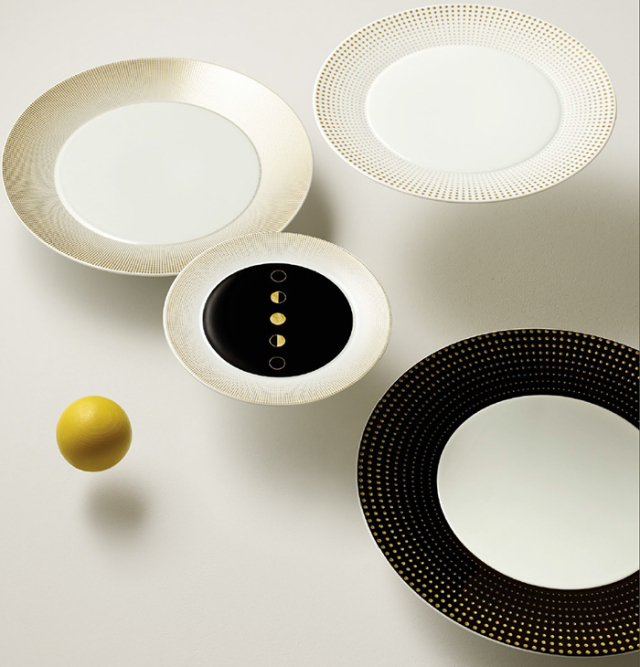 Fürstenberg Auréole according to Atelier 1925
It was love at first sight, because it is easy to fall in love with Auréole. Clair de Lune – a porcelain crockery set designed for Fürstenberg by Kap-Sun Hwang. You can look at this crockery set for a long time and keep on appreciating it.
The Moon – for centuries the theme of art, topic of literary and musical works – has become an inspiration for creating extraordinary decorations. The designer's ingenuity surprises us as regards the manner of using this single motif. Using one motif the artist was able to came up with so many different combinations. When one looks at Auréole. Clair de Lune for the first time it seems that each element of the set has its own unique design. Here we will discover the moon in the form of a big golden shield on the jug lid and of a small golden ball crowning the sugar bowl. The artist painted new moon and full moon on plates and bowls. What is more, when we look closer at the cups, we will find out that those are not dots decorating them, but hundreds of tiny moons displayed in their variable phases.
All this magical world was created the master Hwang who used only three colours: white, black and 24k gold. We will come across teacups and coffee cups, espresso and cappuccino ones, many different sizes of saucers and cups. All these elements form a well thought out, coherent as regards its form and proportions, completeness. The crockery set is extremely modern, even avant-garde, yet nostalgic and touching. It reminds us of the passing time and our existence fragile as porcelain, our existence among planets and stars.
P.S. I really adore Clair de Lune by Debussy. Who knows, maybe Kap-Sun Hwang was inspired by this piece of music when he came up with these unusual decorations.